Rhythmusic


Percussion of Passion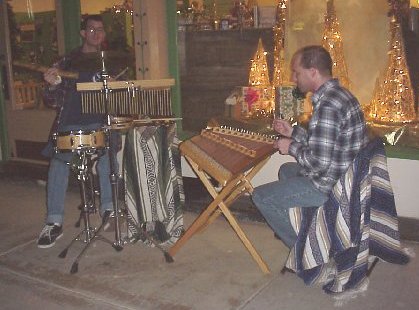 This is the Music of Jay Davenport and friends.
I am from Oklahoma City, OK. USA


Pictures of friends and I playing music:
...Click Me...



Clips of stuff I am pushing you to buy:

Songs from the Guidsessions CD:
E-mail me for more info on getting a copy of this CD.

Find Me Here is a song Mark DeShazo and I produced and recorded for Ross Chaffin,
a fellow Guild member.
A Quiet Place is a song of my friend Kimberly McMartin, also
a fellow Guild member.
Divine Passion is a song of Mark's I recorded and mixed and played percussion on. Mark, of course, is
a fellow Guild member. (mp3 clips from the Guild Sessions CD)

Songs from Kimberly's band From Here to There:
Precious is a song from them.



Live Bootlegs

Here are some songs recorded live at the Dec.5th Caedmon's Call/Jars of Clay
concert in Norman, OK at Journey Church (the old Buy for Less).
Actual Jars songs coming soon...

Stephen Delopolous songs:
Another Day
Digee Dime
Eileen's Song
Jungle Trail
Keep Your Hands On (That Plow)


Andy Osenga's song done during the Caedmon's set:
The High School Band


Caedmon's Call songs:
I Will Sing
Hope to Carry On



For Preston: These are songs from the guild CD

Find Me Here - Ross Chaffin
Divine Passion - Mark DeShazo


For Kimberly:

A crossfade for the latin intro to the piano intro of Love of God From Kimberly's CD, as I am suggesting.


Tracked Songs:
Rhythm First, with only the bare and naked first pattern (.xm)
Rhythm First with up and coming bass part done vocally(.MP3)
Rhythm First with bass part tracked. (.xm)
Rhythm First with bass and drum parts as well as an extended length. (.xm)
Rhythm First in (near) completion. (.xm)


Other Stuff:

Here is a link to modplug.com, where you can find a great player for mods (tracked songs) and
also a tracker. The player plays most common formats of mods, and the tracker makes them.

Then there is always winamp for .mp3, .wav, .au, .CDA, and most other types of sound file.






Important Note ! For copyrighted material you are allowed by law a 24hr evaluation period,
then you are required to either buy the album or destroy/delete all copies of the music.

More to come...


---
The Art Gallery
.
The Music Page.
The Private Chapel.
The Library.